Dr. Heiko Arnold
Chief Operations Officer Custom Smelting & Products
Lives in Hamburg, Germany
German citizen
Born in 1966
Chief Operations Officer since August 15, 2020, appointed as Chief Operations Officer Custom Smelting & Products until August 14, 2028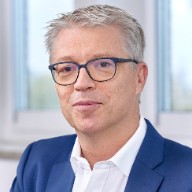 Dr. Arnold earned his doctorate in chemistry at the Technical University of Darmstadt. After completing his studies in 1995, he started his career as a research chemist at BASF in Ludwigshafen.
Dr. Arnold held several management positions at international BASF sites, most recently as Vice President Operations, Technology and Investment Intermediates for the East Asia Headquarters of BASF in Hong Kong. In this function, he was responsible for 11 production plants and five Asian joint venture partners.
Prior to being appointed to the Aurubis AG Executive Board, Dr. Arnold was Chief Technology Officer at the Austrian company Lenzing AG and oversaw the technical functions and functional management of the company's production sites.
Dr. Arnold was appointed Chief Operations Officer of Aurubis AG effective August 15, 2020. The Supervisory Board decided at its meeting on September 13, 2022 to appoint Dr. Heiko Arnold as Chief Operations Officer Custom Smelting & Products for a period of five years following his current appointment until August 14, 2028.