Copper on account
The concept of "Copper on account"- or often referred to as "Beistellungen" or "Wandelkupfer" - has a long tradition at Aurubis. Its origins go back to the 1940s.
The "Wandelkupfer" business model was established shortly after World War II. Financially strong companies fixed the copper required by their suppliers for the production of cables, strips, etc. at Norddeutsche Affinerie (Aurubis AG since 2009) and provided it to them so that they, in turn, could purchase the required input products such as wire rod, round billets, cakes, etc. from Aurubis AG - without having to pre-finance the high price of the copper.
Even if the customer does not know exactly to which of his suppliers the fixed copper is to be released at the time of fixing, he can initially cover the copper positions and then later flexibly decide to whom he will release the convertible copper at Aurubis AG. The release is carried out by a simple transfer posting to the convertible copper accounts of the party providing the copper and the party receiving the copper at Aurubis AG - similar to a transfer to bank accounts.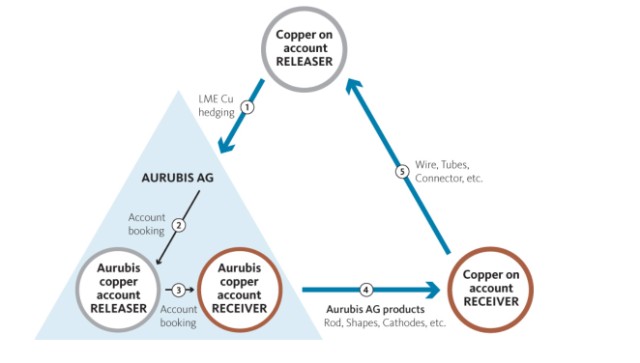 Today, not only large corporations use this service at Aurubis AG. Small and medium-sized companies also want to hedge copper themselves for reasons of risk, flexibility and security of supply and fix their copper requirements as "Wandelkupfer" at Aurubis AG, one of the largest copper producers in the world.
CONTACT